Physicians Laboratory recently donated several machines and equipment that were no longer being used to Seeding Labs.  This equipment had been used for PCR molecular testing.
Some of the equipment donated included:
2 mastercycler thermal cyclers
gel boxes
Geldoc-IT Imaging System with gel HR Camera
electronic and manual pipetters
test tube rocker.
Seeding Labs is a non-profit corporation that seeks to "empower every scientist to transform the world".  They believe that "unleashing the full potential of scientists worldwide is our best hope for fighting global diseases, feeding our growing population, and protecting our planet".
The lab accepts applications form colleges and universities, university-affiliated research institutes and public research institutes that are located in eligible low-and middle-income countries that meet the program requirements.
Seeding Labs partnerships with scientists overseas also continues long after equipment has been received.  They follow up on equipment installation to help with unexpected issues and to also track the impact of the equipment. Our pathologists and staff at Physicians Laboratory hope that by donating this equipment we can play a small part in helping scientists within a university or research facility succeed in their global endeavors.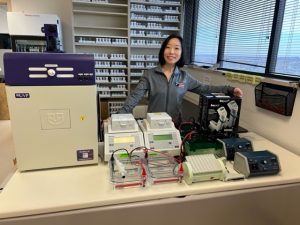 Helen Birkeland, BS, CT (ASCP), MB, CMIAC, stands next to the donated equipment